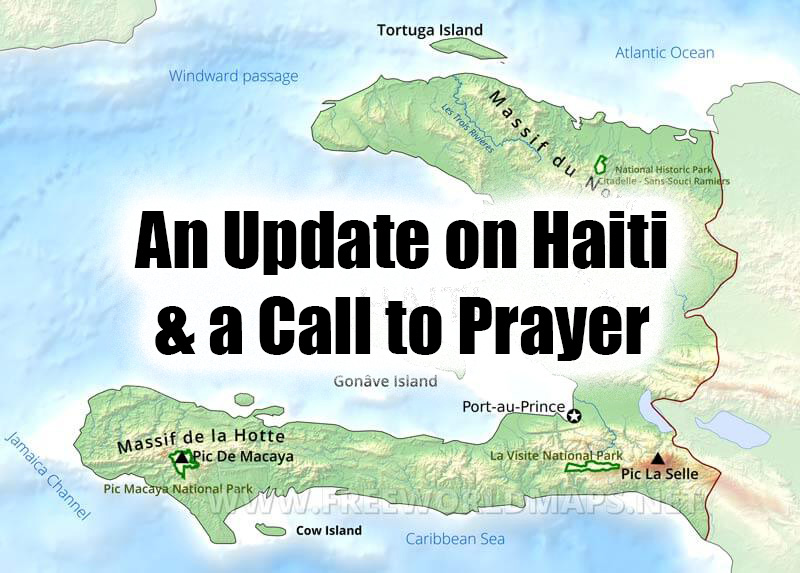 I'm sure that many of you have kept apprised of the recent tragic events in the island nation of Haiti. Early Wednesday morning, President Jovenel Moïse was assassinated in his private residence. His wife, First Lady Martine Moïse was seriously wounded and later evacuated to Miami for ongoing treatment. Without delving deep into the intricacies of Haitian government and politics, this has made a very unstable government even more unpredictable. There are some very difficult days ahead for the people of Haiti and the country of Haiti. We need to be praying for the country of Haiti as well as government leaders from around the world as they discern how to help Haiti move forward during such a difficult time.
Mike and Dawn VanDervort, directors of Project Help Haiti, are presently in the United States. They had returned to the U.S. a few weeks ago for some time with family and connections with partner churches. They had delayed their return to Haiti because of continued deterioration of the conditions in Haiti and will have to further delay their return. Haiti has seen a steady increase in violence, kidnappings and robberies in recent months due to the roaming gangs that are becoming more commonplace. Travel in Haiti has become more difficult and dangerous, particularly for U.S. citizens.
As you gather for worship this weekend, I would encourage you to make prayer for Haiti a special emphasis. Life if incredibly hard in Haiti, but these recent tragic circumstances promise to make life even more difficult in the days and weeks ahead.
Pray for Mike and Dawn as they continue to lead and direct our Project Help staff from a distance. Ask God to give them wisdom and grace as they lead in very difficult and challenging circumstances. Pray for the Project Help staff in Haiti as they continue to serve and minister.
Pray for our brothers and sisters in Haiti. They've experienced much poverty, difficulty and danger. Pray that the Lord would strengthen their faith, provide for their needs and mobilize His church so that they might bear witness to the Gospel of Jesus Christ.
Pray for the government officials of Haiti and other countries as they determine how to move forward – there are many gaps right now in the Haitian government and no clear-cut plan of succession.
Pray for Martine Moise – for her healing and recovery from her injuries.
Pray for the truth to be known – that those who orchestrated and carried out this awful attach would be brought to justice.
Pray for God's Kingdom to come to Haiti in powerful and profound ways so that the country might flourish as God intended it to flourish.
We are continuing to monitor this situation and our Global Reach staff are in communication with our leaders in Haiti. We will keep you informed of other needs or opportunities for partnership as we continue to assess the situation and its potential impact on the ministry of Project Help Haiti and the Haitian Conference of the CGGC.
Christ's Peace,
Lance
---
Don Dennison Completes His Time at the CGGC
Don Dennison served as the Director of Cross Cultural Ministries (now Global Reach) for 20 years before "retiring" from that role in 2015. Since that time Don continued serve in a voluntary role as Church Mission Consultant for the CGGC, assisting local churches improve their missions efforts and ministries. This week Don is stepping away from that role and is completing his time with the CGGC. We are grateful for his many years of faithful service and celebrate all that God has done through his life and ministry with the CGGC. Thank you for serving so well. You will be missed!
Below is a brief video highlighting some of Don's ministry at the CGGC.
---
CGGC eNews—Vol. 15, No. 27