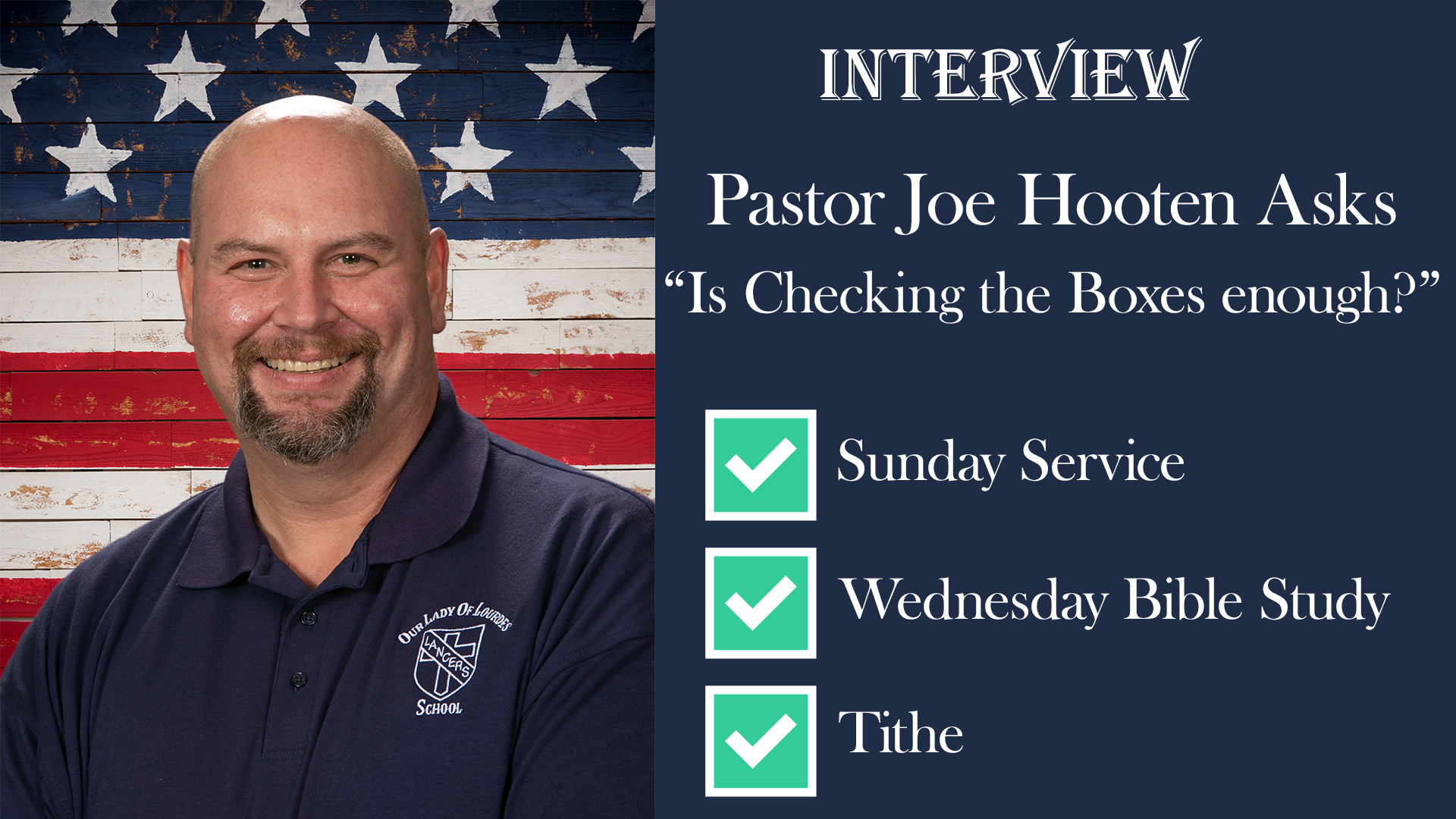 How do we measure discipleship? It's an amorphous question, akin to asking "how do we measure maturity?" It's something we know when we see it, but it's also something that we can conveniently ignore or turn a blind eye toward. It's a question Pastor Joe Hooten from Idaville First Church of God in Idaville, Indiana has been thinking about a lot too, so much so that he's hosting a conference on October 21st, 2023, all about Biblical Discipleship. Pastor Joe has invited a long-time friend and colleague, Dr. Daniel Goepfrich to come and work through a Biblical pathway toward discipleship, and practical methods to help churches. To learn more about it, I sat down (or stood at my standing desk, because I'm one of those people), to ask Pastor Joe all about the conference.
---
What was the impetus for the conference? Why have it now?
One of the things I've noticed, just as in the past with other churches, we have the check boxes. I check it off because I went to Wednesday Bible study. I check it off because I went to Sunday morning service. I check it off because we have the third Sunday meal, or I check it off because I gave so much in my envelope. We do all of these things in response to what's expected of us as maybe good (or not so good) church members, but how much of that is actually impacting the goal, which is to be conformed to the image of Christ? It's about intimacy with Christ and being transformed by the renewing of our mind. Is just checking the boxes good enough for transformation?
I think that's a question every pastor for the last 2000 years wants to ask their congregations.
Other authors have written on it, but Daniel (Dr. Goepfrich) took the basics of the path, and fleshed it out into his book, Biblical Discipleship: The Path for Helping People Follow Jesus. He pulled research and information from previous writing, but the book itself is the path for helping people follow Jesus.
This is the next step of a long path over the last 13 months, all about introducing people to the person and work of Jesus Christ. Whether they attend on a Sunday morning or not, learn what true biblical discipleship looks like.
What does "Biblical Discipleship" mean in this context?
Well, you've got to come to the conference for that!
Okay, fair enough. How about a small taste?
Biblical discipleship is a 1 on 1 relationship with us following Jesus. If we add to that, those who are supposed to be teaching us to obey everything he has commanded to his early apostles, part of the great commission, it becomes a 1 on 1 on 1. It's not about a large group study, or even a small group you show up to every week, it's about the intimate 1 on 1 relationship of someone who's following the path along with us [toward Jesus].
These relationships will grow and change over time. Maybe we surpass our mentors, or we may grow into a mutual walk as we follow Christ. All of us are at a different stage of our journey. The goal is wrapped up within the Great Commission, we want to help those who are behind us move forward while those ahead of us help us move forward.
Who do you think this conference is for?
Anyone who wants to follow Christ, or anyone who wants to know what following Christ is about. Whatever stage of spiritual maturity you are in, you will get something out of this conference.
Whether it's the parent who is already secure in their faith but doesn't know what discipleship looks like.
Whether it's the pastor who's struggling in his church, asking "How do I know whether my church is growing and changing under my teaching?"
Whether it's the unbeliever who just wants to know who this Jesus guy is, or who has a curiosity about why so many people want to follow him.
Anyone on any stage of their spiritual journey is welcome to this conference, and I believe anyone, no matter what stage, will get something out of this conference that they haven't heard anywhere else.
The rest of the conference is about the Spiritual Maturity Clock. Scripture compares spiritual growth to physical growth. We go through a period of infancy. We grow through a period as children, to teenage, to young adult. And then we become parents and teachers in our own right. Those 4 quadrants are the stages of a clock. We are all infants when we become believers. People might not recognize us as Christians based on our behavior or attitude, and that's the stage of the infant.
We've lost entire generations to this phenomenon in our churches. Of people getting side tracked, and they are stuck at the infant stage, child stage, or teenager stage. And there is no expectation for them to become spiritual parents. There's no expectation for each and every one of us to grow into maturity to become a disciple making disciple. There is something wrong with that.
So back to your original question. This conference is for everyone. No matter where we are on the path, where do we go from here? So we can all attain the fullness and measure and stature of maturity of Christ.
---
Thanks Pastor Joe!
If you or someone you know thinks this might be a helpful time of teaching, you can sign up early for the Biblical Discipleship Conference right now and guarantee a copy of Dr. Goepfrich's book and lunch, all included. The conference will be accepting walk-ins without early registration, for those people who like making last-minute decisions.
Sign up below for the Biblical Discipleship Conference on October 21st, 2023. The Conference will run from 9 A.M. – 3 P.M. The Biblical Discipleship Conference will have times of worship, multiple sessions of teaching, breakout groups for personal development, and a time for Q/A with Dr. Goepfrich.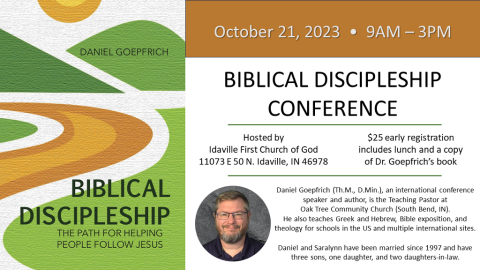 A blurb from Dr. Daniel Goepfrich's website reads:
"The church is in a state of crisis. In the United States, membership is declining across most denominations. Pastors and church leaders are falling in public scandals. Biblical doctrine is being replaced by feelings, experiences, and culture-driven ideology. Across the world, the church has been marginalized by apathy within and attacks from outside, or it has begun to assimilate ancient pagan practices that have stripped it of the powerful, life-changing impact it could have. The solution is a return to Biblical Discipleship."
---
CGGC eNews—Vol. 27, No. 37