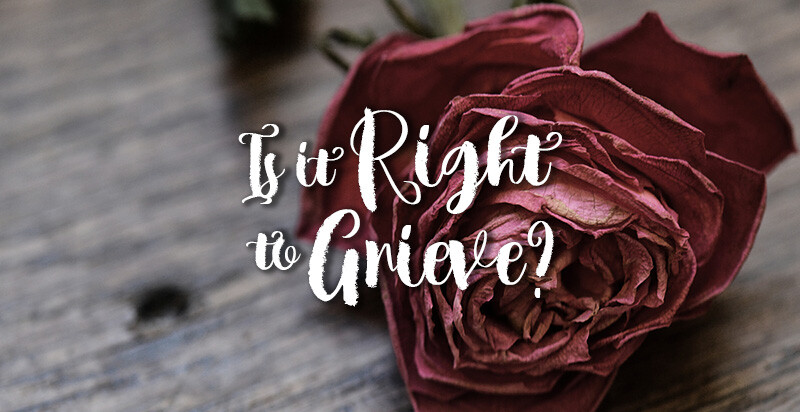 Should followers of Jesus grieve? This was the question that a friend posed earlier this week on social media. The context of the question related to the idea that when we lose a fellow believer in Jesus, understanding that they've reached the goal, why should fellow believers grieve? Shouldn't their passing bring celebration rather than grief? It's a fair question. It's also a timely question as there is plenty of loss, plenty of death and plenty of grief to go around these days.
This past Tuesday we lost a dear brother, Pastor Tracy Conner at the Mechanicsburg First Church of God. Please be praying for our brothers and sisters at Mechanicsburg as they lost their pastor and friend unexpectedly and their loss is great. We've had far too many congregations experience the sudden loss of a pastor over the past recent months. I cannot remember another season of time where our body has experienced the amount of loss that we've experienced through the past two years.
Is it okay to grieve? I remember a visit with one of my doctors several years ago. My appointment happened to be on the first anniversary of the death of his father. My doctor was well into his 60's and his father had been in his 90's when he died, yet he was visibly struggling to cope with the loss of his father and make sense of it all. He was a man of faith, as was his deceased father and during our visit he even offered an apology for his emotion and distraction. "I'm a grown man, my father lived a rich and full life and I know where he is, but I don't know why this is so difficult for me." I simply offered that his struggle was rooted in the fact that deeply woven into the human experience is a God-given sense that it isn't supposed to be like this. We weren't created to experience death, separation and loss. God's creation in Eden was marred by sin that brought sickness and death and separation. Even as believers, when we know because of our hope in Christ that these separations are only temporary, yet we still grieve because it's not supposed to be this way.
This week has pulled me toward the story of Jesus found in the Gospel of John 11. I'm sure you know the story well, it's the death of Jesus' friend Lazarus. More than once John reports that Jesus was deeply moved and even troubled by the events surrounding the death of his friend. Then there's the shortest verse in scripture (35): "Jesus Wept." Jesus wasn't immune to sorrow and grief. What strikes me most is the fact that Jesus is moved to tears, experiencing the deep emotions of sorrow and grief even while knowing that moments later he would raise his friend to life. Even in knowing what is about to take place, we find Jesus experiencing the sorrow and grief that death often brings. It wasn't supposed to be this way. If it was okay for Jesus to grieve at the death of his friend, I certainly think it's okay for us to grieve as well.
We don't grieve as those who have no hope (1 Thessalonians 4:13) and we don't grieve with a false sense of universalism (where everyone goes to a better place when they die), but we do grieve. In our grief we're acknowledging the larger story of God: that this isn't how it was supposed to be. Sin has robbed us of what was meant to be, but thanks be to Jesus who has made a way for us!
I offer this today because I think it's so important for the days we're living through. There are treasures of God's mercy and grace buried within our experience with grief that we're prone miss if we don't take the time to grieve well. I offer this today because so many folks are dealing with loss and death, sometimes to an overwhelming degree. We have an example to follow with Jesus, who didn't ignore the grief and sadness of his friends Mary and Martha, who grieved even as he prepared to bring life to his friend Lazarus. He didn't minimize their grief or his own. I think there's a powerful lesson there for us today.
If you are in the midst of deep grief and sorrow today, know that you have a savior in Jesus who understands your grief and doesn't ignore it or minimize what you're going through. If you know someone else walking through the dark valley of grief and sorrow, look to the example of our savior Jesus, who didn't ignore or minimize the sadness of his friends but was deeply moved and troubled because of their sorrow and loss. We would all do well to follow His example today.
Christ's Peace,
Lance
---
CGGC eNews—Vol. 16, No. 2