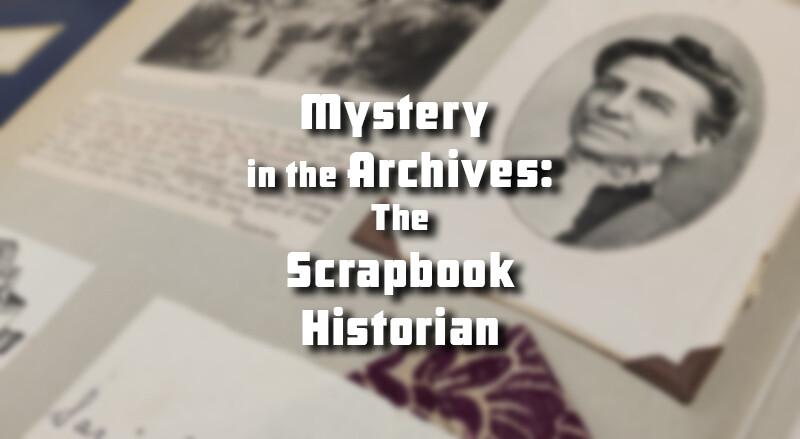 *This article was originally published in the Summer/Fall 2023 edition of the Archives Museum News Magazine, published by the Churches of God, General Conference Historical Society. It can be found here.
On an innocuous shelf in the Churches of God, General Conference (CGGC) Archives Museum rest a multitude of dusty photo albums, journals, manila envelopes, and large white boxes filled with an assortment of scraps, files, and photographs. More than anything else though are piles of scrapbooks, stacked loosely and precariously, and entirely unorganized. One might suspect that given the varied sizes, shapes, and colors of the scrapbooks, that they represent the work of a fair number of different authors and compilers, but this isn't true. The vast majority of the scrapbooks, 33 of them, belong to a single compiler, and on the outside of each scrapbook you will find her initials, E.G.L. The compiler, whose tendency is to leave an introduction written on a typewriter, laid out her purpose and intention to compile a whole series of scrapbooks about the different missionaries of the CGGC, and at the bottom named herself, Elma Grose Loach.
A 34th scrapbook would eventually be dug out of the archive, hidden in a box elsewhere. Two additional scrapbooks were found at the University of Findlay Archive, donated by E.G.L. before her death, and 11 more were donated to the local Hancock Historical Museum, although these 11 were lost. Finally, an interview with the local newspaper, the Findlay Courier, records that E.G.L. had compiled more than 50 scrapbooks in all by 1973. Given that E.G.L. lived for another 10 years, it's not unreasonable to suppose that she may have continued compiling more after this interview.
Perhaps most startling is the fact that, outside of the scrapbooks themselves, there is almost no historical mention of E.G.L within the rest of the archive, and only one other church historian made mention of the scrapbooks' existence. After seeking help from numerous individuals from the CGGC Archive, the University of Findlay, the local Findlay Hancock County Library, the Hancock Historical Museum, and more, now a part of E.G.L.'s story can be told.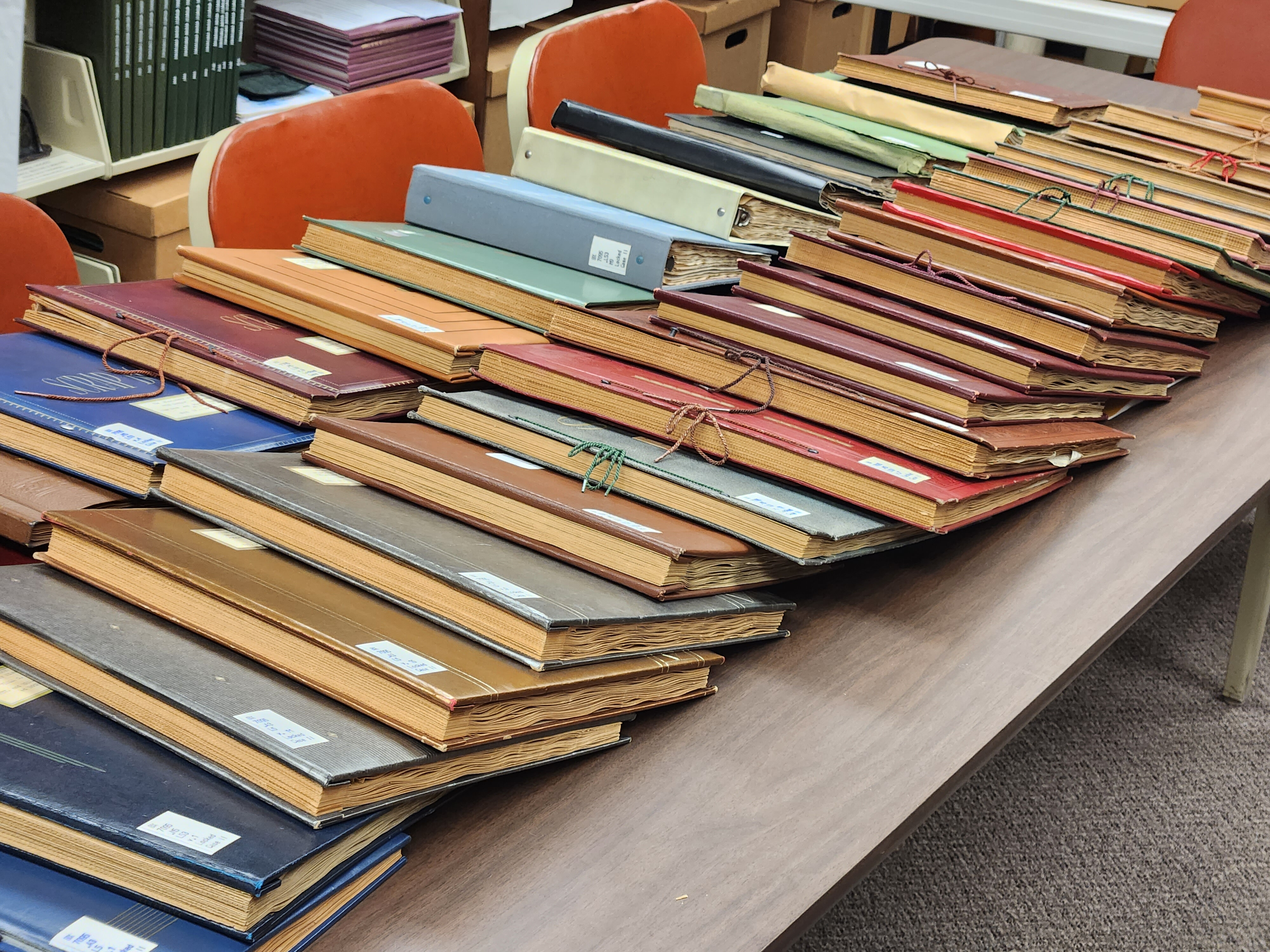 Who is E.G.L.?
Born Elma Grace Grose, she was born in Hancock County, Ohio, on September 12, 1891, and lived in Northwest Ohio seemingly all her life. She graduated at the top of her small rural high school as the Valedictorian in 1908, graduated from Findlay College in 1910 with a normal degree, married James Leroy Loach on July 2, 1912, and began teaching English at the Hagerty School in Liberty township the same year. After the closing of the Hagerty School, her only recorded profession is that of a seamstress for a local small business. Together, Elma and James had three sons, Leland, Robert, and Richard, and James unfortunately passed away sometime before 1940, according to census data of that year. E.G.L. would continue to live in Findlay, Ohio for much of her life, alone in an apartment, on 208 ½ Sandusky St. until she died on March 21, 1983, at the age of 91 years old. She was buried in Benton Cemetery, only a few short miles from her childhood home.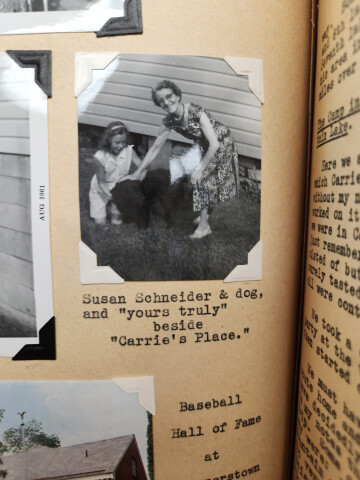 E.G.L.'s interest in church missionary endeavors can be readily explained by three key things. First, her attendance at Findlay College, a college founded and established by the Churches of God in North America, a protestant denomination. Second, her active involvement with College First Church of God of the same denomination. And third, her involvement with a number of church auxiliary groups, most of which were formed by and for women, such as the Women's Christian Service Council (WCSC), and the Women's Christian Temperance Union (WCTU). All four of these organizations gave agency to women, and at least three of them recognized women's role in ministry, and regularly published written material by women. Many of E.G.L.'s scrapbooks contain material directly from works published by the CGGC, namely The Church Advocate, a regularly published newspaper, and The Sunday-School Gem, a magazine.
The Scrapbook Journey Begins
Of the subjects that E.G.L. might have been inspired by, one stands above all. Viola G. Cover (Hershey), was the patron, subject, and author of most of the content within E.G.L.'s scrapbooks, and owner of the vast majority of the material she used. Viola was a missionary who, after a mere two years of study at Findlay College, immediately set out for India to spread the gospel in 1902. As the second missionary of the CGGC, Viola was a pioneer, a woman with a profoundly adventurous spirit, a talented writer, and would become rather famous within the CGGC. Viola would spend 44 ½ years as a foreign missionary, much of it with her husband Howard Cover. During that time, she would also write at least three books, Glimpses of Bogra in 1912, Things as They are in Bogra in 1937, and another short picture book. In combination with her journals, published correspondence, and occasional written material for other publications, Viola was a prolific writer, and a talented storyteller. In a written letter found in the archive, Viola recounts how she came into contact with a few of E.G.L.'s scrapbooks, and how she immediately recognized them as "made by an expert, they are real works of art. Where will I find the artist?"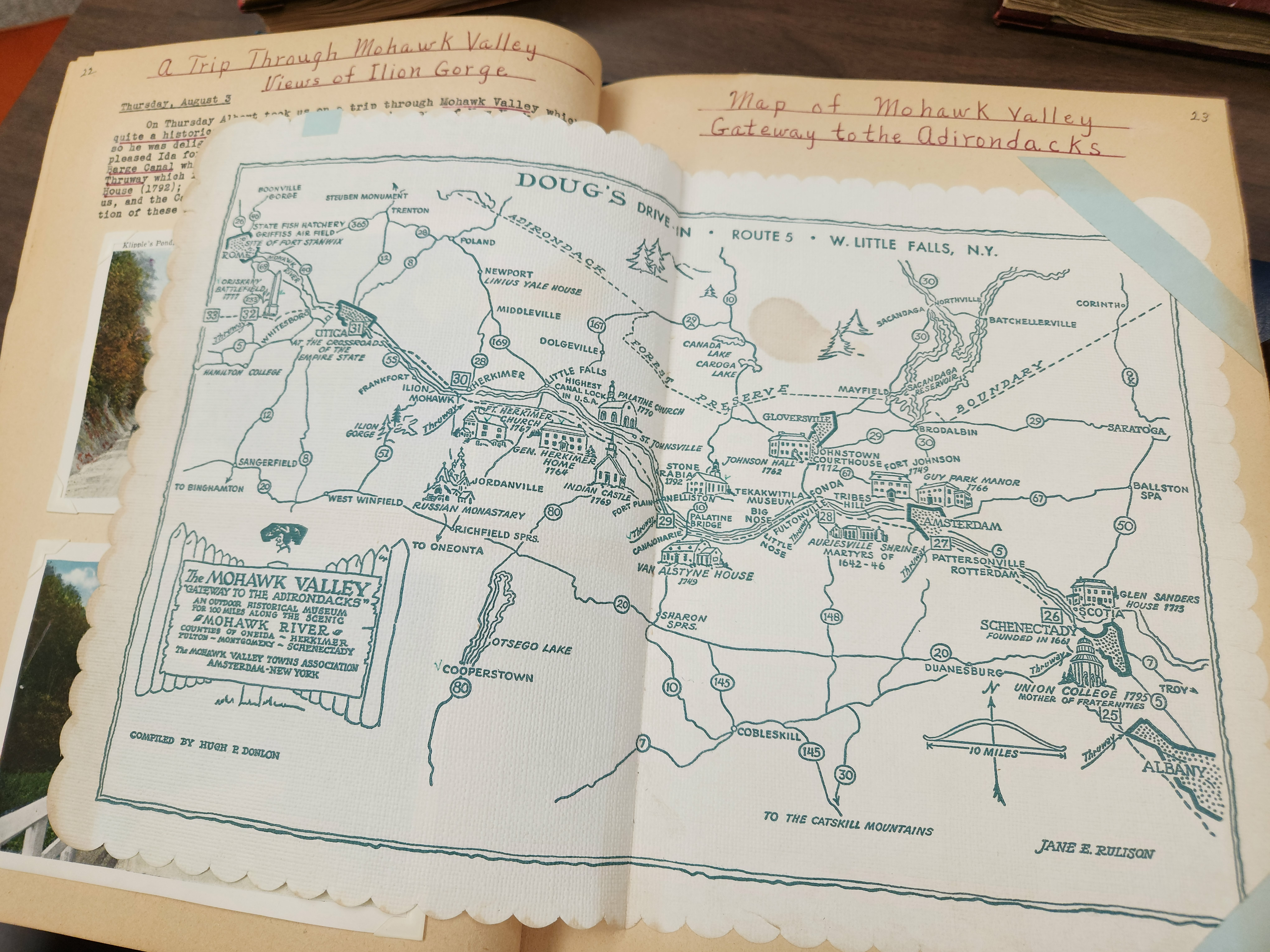 E.G.L. tells her own account of the fortuitous encounter saying that, "Mrs. Cover took a special fancy to them and sought to contact the owner… she then took the chance of a lifetime… I could not refuse, and succumbed, no doubt partly from a desire to please, but most likely from my own inclination for that work; and offered my services."
What Viola did with the scrapbooks also paints a picture of her and Elma's aims. Viola first came into contact with Elma's scrapbooks at a church conference where they were on display. Once Elma began making bespoke scrapbooks for Viola, this pattern continued. Provided the correspondence between the pair is accurate, Viola made it her mission to show and demonstrate the scrapbooks to as many people as possible and in a variety of churches, schools, homes, and conferences as education tools. One whimsical piece written by Viola typifies this. Titled "The Travels of Three Missionary Scrap Books of the Churches of God" and found in Elma's sectional notes, the piece details the journey the scrapbooks took to 13 different places across Pennsylvania, Ohio, and Indiana. As an extra creative flair, the piece is written entirely from the perspective of the three scrapbooks themselves, in first person. The personified scrapbooks quip, joke, and impress upon the reader the great distances they travel, and how much they are enjoyed wherever they go. One part notes that "Many of the delegates took a glance at us and admired us, but had very little time to read much as they were kept busy with other meetings," while another says that "no reward was offered for Scrap Books, but we are told that if rewards had been offered, we three would have taken first place."
Dissecting the Scrapbooks
E.G.L.'s scrapbooks generally cover the chronological history of the CGGC's missionary endeavors, but some of her scrapbooks break the mold and cover tangential but related topics, such as a historical overview of India, or a scrapbook on the first and second world wars, and even one that recounts her travels from Findlay, Ohio to Landisville, PA to meet with Viola.
A key feature of each E.G.L. scrapbook is that they are almost all chronological. It is simple to deduce merely by the subject matter that E.G.L. has a bent towards historical work, and therefore, a strict chronology makes sense. We do see, also, a penchant for accurate historical information, even when it means correcting one of her own sources. Not infrequently can we find places where E.G.L. has crossed out and replaced a word by Viola, or by another missionary who got a name, date, or other detail wrong.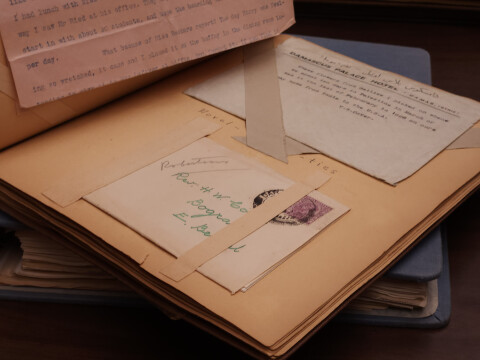 As for their development, the scrapbooks do have a meaningful qualitative progression from the earliest to the latest. Finer materials are used in later scrapbooks, and a preference for books with thicker covers, stronger bindings, and sturdier pages is demonstrated. Likewise, accessibility is a considered factor. Early scrapbooks simply jump right into the content after a colored pencil title. But very quickly, E.G.L. develops an indexing system which allows for a clear table of contents, page numbers, and categories for ease of perusing. Given that these books are ostensibly to be used for research, this addition is most welcome.
While all of this is impressive, especially when compared to other scrapbooks of the time, what really sets E.G.L.'s scrapbooks apart are the sheer variety of material choices on display in each and every one. Many contemporaneous scrapbooks contain little more than cut and glued newspaper articles, often ripped wholesale from the page, a few pictures, and perhaps the occasional artistic flourish. Likewise, it is not uncommon for a scrapbook to be largely of one particular material type, either almost entirely pictures with some captions, resembling a modern photo album, or entirely made of newspaper articles, and typically all from the same newspaper source.
In sharp contrast, E.G.L.'s scrapbooks contain newspaper clippings (as is traditional), but they also contain letters, both handwritten originals and typed copies and often with the original envelope, both color and black and white pictures, iconography, both hand drawn and printed maps, poetry, biographies, physical artifacts like church bulletins, post cards, travel itineraries, dining menus, cloth fabric, citations of sources, references between scrapbooks, an index, underlines and highlighting, additions, corrections, and crossed out text, and lastly E.G.L. often inserts large sections of her own original prose to flesh out a section. The point here is to stress that in almost every conceivable way, E.G.L.'s scrapbooks stand out, either by their quantity or their quality, and doubly so when considered together.
Given that E.G.L.'s scrapbooks are inherently historical in their approach and design, that she chose such a difficult medium to preserve, and which are prone to falling apart and to limited longevity, is an interesting, paradoxical, oxymoronic twist. Scrapbooks routinely threaten to fall apart when picked up, and pages deteriorate simply by moving them. It's rare to find a scrapbook made with high quality materials that were built to last. The glue rarely holds together, the pages are thin and brittle, the bindings are fickle, sometimes literally made of string, although occasionally made of metal screws when you are lucky. Simultaneously, their irregular shape and contents have meant that small archives are not equipped or prepared to sort them and maintain them. At other times, even well-constructed, high-quality materials are still worn down through use, as a key feature of scrapbooks is their potentially interactive nature. Pictures, maps, and letters can be peeled or pulled out and stuck back in, resulting in tears, or frayed corners.
Not only are scrapbooks mechanical nightmares for archivists, but because of their mechanical problems, archivists are unlikely to see value in their rhetoric anyway, and may refuse to preserve them or accept them into an archive. Material choices then become part of the determining factor of what gets preserved. We are lucky then to have found E.G.L.'s historical scrapbooks in a suitable state, for the most part.
Taken together, it can confidently be said that E.G.L. was a church historian, and her medium was scrapbooks. Where other historians are prone to writing their own prose, E.G.L. preferred generally to incorporate her sources more directly. In doing so, E.G.L. invites her readers to experience the past from firsthand accounts, primary sources, and genuine historical materials. This also means that E.G.L.'s historical scrapbooks are themselves artifacts of history, containing within them a multitude of artifacts. Her compiled works are, in many ways, as detailed and authentic as any Church historian's but are also often more artistic and playful. An account of a missionary's travel may be placed alongside a map and a lunch menu from the ship. This invites the reader to not only learn the history, but to trace the map with their finger, or to consider what they might have had for lunch that day. While E.G.L.'s scrapbooks may not tell as clear a narrative, this kind of historical approach may instead situate the reader deeply in the historical lived experience. When viewed alongside other historical works, E.G.L.'s scrapbooks may supplement otherwise cold and distant historical texts with real texture.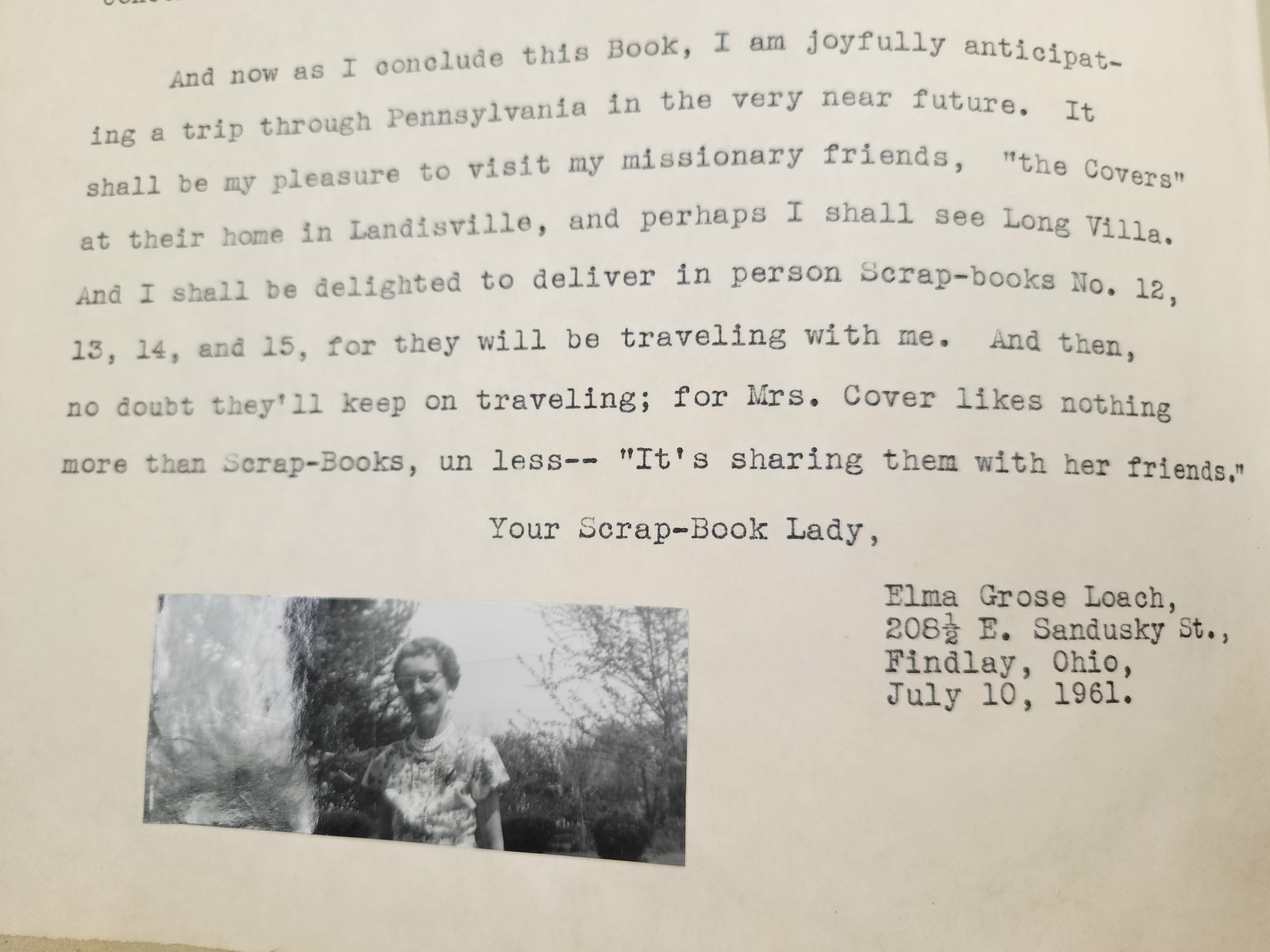 "And now as I conclude this Book, I am joyfully anticipating a trip through Pennsylvania in the very near future. It shall be my pleasure to visit my missionary friends, "the Covers", at their home in Landisville, and perhaps I shall see Long Villa. And I shall be delighted to deliver in person Scrap-books No. 12, 13, 14, and 15, for they will be traveling with me. And then, no doubt they'll keep on traveling; for Mrs. Cover likes nothing more than Scrap-Books, unless—'It's sharing them with her friends.'
Your Scrap-Book Lady,
Elma Grose Loach,"
---
CGGC eNews—Vol. 27, No. 36