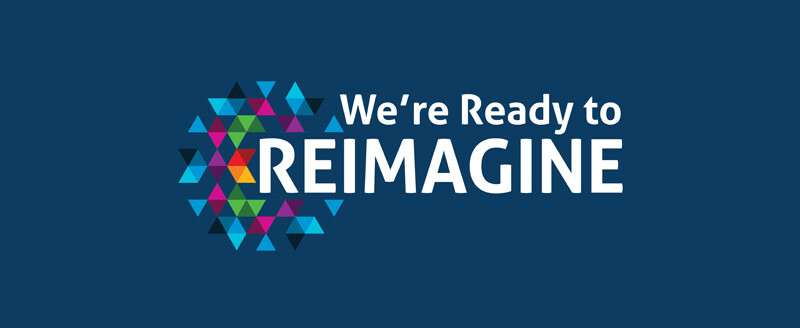 We're just a couple days out from our Triennial Conference Sessions which begin on Monday afternoon here in Findlay. We're looking forward to delegates arriving in town over the course of the weekend/Monday and are excited about what the Lord is going to do as we gather together.
Our conference theme is Reimagine and we'll be exploring how we must begin to reimagine and adapt our practices of ministry in order fulfill Christ's mission in the world. I'm particularly looking forward to our speaker, Brad Brisco as he explores this theme with us. Brad will be speaking twice on Monday afternoon and again on Monday evening. I hope you'll make a point to try to catch some of the livestream of the sessions. Here are the topics of Brad's three presentations for Monday.
Rethinking Church & Mission: Before talking about the how of missional living, it is important to discuss the why. In this session we will survey three theological foundations that set the stage for the church to move in a missional direction. Without a clear understanding of these foundations, any change a church attempts to make will simply not be sustainable. Topics will include recapturing the missionary nature of the church, incarnational mission, and participation in the missio Dei.
Rethinking Leadership (Creating a Missionary Culture): In missionary churches, the effectiveness of leaders is measured by how the people of God are equipped, enabled, and inspired to participate in God's mission in the world. We need to give people the language and license to get into the game. We need to create a culture for missionary engagement that will involve rethinking language, missionary behaviors, scorecards, stories, and spiritual gifts.
Rethinking Discipleship and Evangelism in a Missionary Context: Discipleship isn't simply something we do with believers after conversion, but instead it is all about discipleship, both pre-conversion discipleship and, if the Spirit does His thing, post-conversion discipleship. We know conversion is the work of the Spirit; our part is to be disciple-makers who devote time and commitment to apprentice whoever wants to go on the journey with us. In other words, anytime we point people to the person, work, and ways of Jesus, they are being discipled, if they know it or not.
In addition to Monday's sessions, we've also asked Brad to prepare three workshops for Tuesday morning and Tuesday afternoon. In these workshops, Brad will present an introduction and overview for the topic. Then there'll be some intentional discussion time around the tables for the participants before we wrap up with time for Q & A with Brad.
The Beauty of Bivocational Mission & Ministry: Bivocational (and Covocational) ministry is about more than just finances. It's a new way and an old way of thinking about how God calls and releases the entire Body of Christ into mission. In this session, we will unpack the theology, philosophy, and benefits of Bivo/Covo ministry as well as share stories of how church planters and pastors today are making an impact through their marketplace vocation.
Engaging God's Mission Where You Live, Work & Play: While more and more people are less and less interested in the programs and activities of the church, missionally minded people must learn how to lovingly engage people in the 1st, 2nd and 3rd places that we inhabit. In this workshop we will discuss the topics of biblical hospitality in and through our homes (1st place), understanding how God has placed us in a vocation for His missional purposes (2nd place), and what it means to identify, create, and support Third Places in our communities.
Scorecards (Counting & Measuring What Matters): When it comes to "keeping score," churches in North America have typically focused on three metrics: buildings, budgets and butts. While there is nothing inherently wrong with counting each of these things, we do need to ask if keeping score of how big our buildings are, how much money people give and how many people show up when we meet is the best indicator of how a church is doing?
In addition to the workshops and general sessions, we'll have some incredible times of worship and praise with Pastor Chris Clugh and the worship team from Grand Point Church, business sessions, reports from the General Conference and Global Reach teams, and a special evening of celebration on Tuesday.
You can see an overview of the schedule on our Triennial Program Booklet on page 4.
You'll also be able to view our livestream of the conference from either our YouTube page or directly from our Website's home page.
I'm looking forward to reconnecting with brothers and sisters from across the U.S. as well as a few of our Global Reach leaders from outside the U.S. I do hope you'll take the time to join us online for some of the sessions.
Christ's Peace,
Lance
---
CGGC eNews—Vol. 16, No. 29