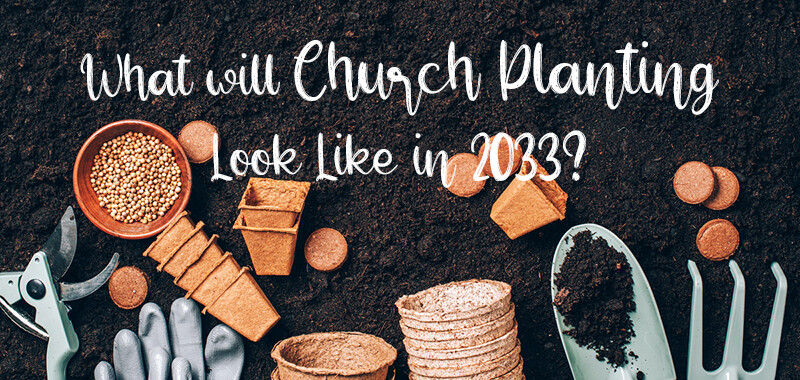 My earliest memories of church planting are from the 1980's. I remember the Illinois Conference had the opportunity to buy an abandoned church building in a small town in central Illinois. Upon purchasing the building, they put out a call for a willing pastor to launch a new congregation in that community, utilizing the existing building. I don't remember all of the details or the impact of the church, but I do remember that the church closed just a few years after it had been planted.
This past week there were about twenty-five leaders from across the CGGC gathered with other denominational leaders at Axelerate Live. The two-day training was hosted by Axelerate (www.axelerate.org) which takes a unique focus on helping national and regional denominational leaders improve their ability to multiply leaders and churches. This year's theme was exploring what church planting might look like in ten years and how that impacts our work today.
While it's difficult to project out ten years (or even a few days or weeks), I think it's helpful to spark both our imagination and strategic muscles. How old will you be in the year 2033? What will your local church look like in 2033? What changes need to be made today in order to have a kingdom impact ten years from now?
Let's Look at Some Statistics
I've shared these numbers before, but they are worth sharing again. In 2010, there were approximately 314,000 protestant churches in the United States. The population in 2010 was 309,000,000 which means that there was roughly one congregation for every 1,000 people in the U.S. The population of the U.S. is projected to grow to at least 400,000,000 by the year 2050. In order to maintain the current ratio of one congregation for every 1,000 people, it means that there will need to be at least 86,000 new congregations established by the year 2050.
In 2019, there were 3,000 churches planted in the U.S. while 4,500 hundred churches closed, leaving a net loss of 1,500 churches. If we're to reach the goal of 400,000 congregations in the U.S. by 2050, this means that we need to see positive net of at least 3,000 churches per year between now and the year 2050. There is much work to be done.
In 2007, the average age of a church planter in the U.S. was 34 years old. In 2022, the average age had risen to 42 years old. Will this upward trend continue? What is causing the current trend?
The much-focused upon Millennials are currently ages 27-42. Generation Z is coming into adulthood and currently spans the ages of 11-26. These two generational groups are some of the least likely to identify as Christian. In ten years, these generational groups will be 37-52 and 21-36, respectively. What needs to change about our present ministry when we grasp that the church planter of a congregation in 2033 is only 16 years old today? What kind of congregation will it take to reach these same young people whom we're struggling to reach today?
What The Future Holds
While no one has a crystal ball, I'd like to offer a handful of observations and learnings from our time this week.
I think most of us have a particular picture of what a church plant is based on our experience from the last several years. A church plant typically requires a charismatic and entrepreneurial leader who launches a new congregation and is able to attract enough of a committed constituency to become financially self-sustaining in two to three years. The main instrument used to reach new people is typically the Sunday morning worship service. Yet, it has been demonstrated that this is not an effective method of outreach for many people.
Planting churches in 2033 will require a much different approach and diverse mix of models. The traditional Sunday service won't go away, but it will be complimented by these new models. Most of the models will need to focus on disciple-making as the primary work of the church and less upon the weekly gathering of the church. This will necessitate a diverse mix of fresh expressions and disciple making efforts that will probably look very different from most of our current Sunday morning worship services.
Planting churches in 2033 will heavily rely upon bi-vocational and co-vocational planters who don't necessarily aspire to become "full-time pastors". Between the changing economics of church life and the missional opportunities of other vocations, there will be an increasing number of bi-vocational and co-vocational church planters who leverage their time in the market place for kingdom purposes.
Planting churches in 2033 will consist of ordinary men and women, as opposed to expecting only rockstar evangelists to do the work for the whole church. It will be everyday missionaries, who recognize the unique opportunities which God has placed before them, that build the future of the church. Likewise, the church plants of 2033 will start with the people and culture that God has called us to reach and the shape of such efforts will be driven more by mission and cultural needs rather than a particular model or style of church service. For instance, if we're trying to reach the lost, and our church is close to a prison, we might try a prison outreach ministry instead of waiting for them to get out of prison and then find our church.
Lastly, planting churches in 2033 will largely be the result of local churches planting churches, as opposed to the way we've done it in the past. Historically, it's been initiatives by regions and denominations to plant churches, but it's the multiplication of the local church that will have the biggest impact in the days ahead. This will require congregations to discover the gifts, talents, and callings that God has placed in His people, developing and discipling those individuals and then deploying them for service in God's kingdom! Our God is a sending God and He has designed His church to be a sending church. Every congregation across the CGGC has the opportunity to ask, "what does God want to birth out of our local fellowship?"
There is much work to be done. God is calling us to be a part of His kingdom work of reaching and discipling the emerging generations, passing on the faith and seeing His kingdom expand. What we do today (or fail to do) will shape our ministry in 2033.
Christ's Peace,
Lance
---
CGGC eNews—Vol. 27, No. 35