Bryan and Katie Crabtree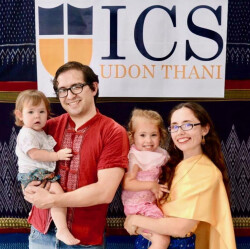 Bryan and Katie, both of Northwest Ohio, each came to personally know Jesus Christ as savior in their teen years. The Lord has laid it on their hearts to share this hope that they've found with those that have yet to hear. In Thailand, Katie teaches a Christian curriculum to her first grade students who primarily come from Buddhist families. Bryan is laying the groundwork needed to see a church planted in this unreached area. Both are engaged in learning the Thai language to connect with more and more people. The Crabtrees have 2 beautiful, lively daughters- Elli & Ava.
More information: Download Most Recent Newsletter
Contribute to GR 2734 – Bryan & Katie Crabtree Support
*Or checks should be made payable to "CGGC" and mailed to PO Box 926, Findlay, OH 45839. Please indicate your preference for funds to go to GR2734.
Birthdays
June 26 - Bryan
December 19 - Katie
February 11- Elli
November 28 - Ava
Anniversary
October 14
Prayer Focus
For parents willing to partner with and trust Katie's school (ICS) to educate their children and a strong culture of community to be cultivated
For openness to friendship and prepared hearts to accept the gospel truth as Bryan meets new people
For optimum ability to focus and remember as we study the Thai language - For the Christian community to become a spiritual light in this region of Thailand (Isaan) known for its spiritual oppression and darkness
That we glorify God in all we do
Contact
Bryan and Katie Crabtree
Email :
Back to Missionaries & National Field Leaders