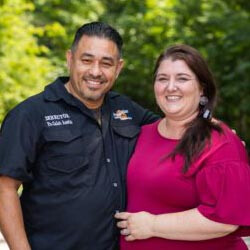 Contribute to GR 2764 – Caleb and Christina Acosta Support
*Or checks should be made payable to "CGGC" and mailed to PO Box 926, Findlay, OH 45839. Please indicate your preference for funds to go to GR2764.
Caleb was born and raised in Venezuela and came to the States in 1989. Christina is a native of Lancaster County , PA. God brought them together at a church gathering and began to transform their lives in preparation for ministry.
In 2004, they started the Divine Healing Church which meets in the Columbia , PA First Church of God facilities. This Spanish-speaking congregation was received into the Eastern Region Conference of the CGGC in 2007, and both Caleb & Christina became licensed pastors.
During a return visit to Venezuela in 2006, they planted the Divine Healing Church in Maracay —the country's 4th largest city. Contacts with other churches there resulted in plans to organize as a conference and begin the process of affiliating with the CGGC.
Back in the States, the Acostas led Divine Healing Church to reach out to nearby communities with ministries in Middletown and New Holland in 2009. CGGC Cross-Cultural Ministries approved the Acostas in June 2009 as candidates for Directors of Latino Ministries. Now serving full-time in this ministry, they are able to focus more time and energy on expanding a network of Spanish-speaking churches in the U.S. and Latin America. God has blessed Caleb & Christina with four children.
More information:
Latino Ministries Newsletter Argentina Newsletter Mexico Newsletter
Chile newsletter Honduras Newsletter Dominican Republic Newsletter Nicaragua Newsletter
Birthdays
June 29 - Caleb
May 9 - Christina
Anniversary
September 22
Prayer Focus
CGGC Latino Ministries development
God to lift and prepare Hispanic leadership
Provision of finances to carry out His work
National (US) and International (Overseas) Latino Missions
All pastoral families currently serving in Hispanic Ministry
Contact
Caleb and Christina Acosta
511 E. Ross Street
Lancaster , PA 17602
Email :