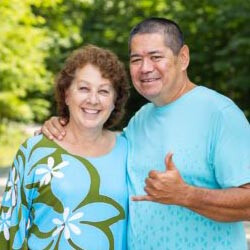 Contribute to GR 2754 – SUPPORT FOR THE KAPAKUS
*Or checks should be made payable to "CGGC" and mailed to PO Box 926, Findlay, OH 45839. Please indicate your preference for funds to go to GR2754.
David became a Christian at a Campus Life meeting while a sophomore at Nanakuli High School in Oahu. Soon God burdened his heart for ministry and gave him a vision to reach his people. He came to the mainland in 1977 to study pastoral ministry at Fort Wayne Bible College. There he met Kenda, a missions and Christian education major from Columbia City, IN. Both of them graduated in 1980 and were married that summer.
The Kapakus pastored the Walnut Grove-Tulip Churches of God circuit near Bloomfield, IN 1981-92. While there, David completed his Masters of Divinity at Oakland City Graduate School of Theology in 1990 and was ordained by the Churches of God, General Conference. He also completed Doctor of Ministry courses at Winebrenner Theological Seminary in Findlay, OH. Additional pastorates included Syracuse Church of God (1992-96) and Trier Ridge Community Church of God (1996-02).
David & Kenda moved to Maui in mid-2003. They live in the Honokohau Valley located on the northwest part of the island. Their focus is on reaching and discipling the native Hawaiian people. David is a teaching minister at the historic Ka'ahumanu Church in Wailuku and mentors native Hawaiian pastors.
More information: Latest Newsletter
Birthdays
David – January 15
Kenda- February 20
Anniversary
August 31
Prayer Focus
Hawaiians from whom disciples will come
The chapel that will serve as a prayer station and meeting house for discipleship in Honokohau Valley
Hawaiians to trust in the Christ since the established Church on Maui has failed the Hawaiian people
That Christ's 'aloha' will flow from our hearts to Hawaiians
Contact
David & Kenda Kapaku
P.O. Box 11888
Lahaina, HI 96761
Email