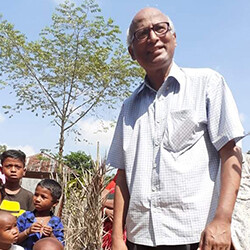 Contribute to GR 2701 – Bangladesh Country Director Support
*Or checks should be made payable to "CGGC" and mailed to PO Box 926, Findlay, OH 45839. Please indicate your preference for funds to go to GR2701.
Dr. John Costa has been working with the Khanjanpur Mission Health Service (a part of the Churches of God Mission in Bangladesh) for the last 27 years as an ophthalmologist, providing medical treatment and performing vital eye surgeries for the poor who could not otherwise receive treatment. A large part of his outreach occurs as he conducts remote medical camps within underprivileged communities throughout the area. In 2019, John became Country Director of the Mission. His wife, Kalpana, is the daughter of the late Narjit Chandra Das who served as pastor of the Churches of God Mission Church in Bogra before 1972. John and Kalpana have one adult son, Michael.
Birthdays
January 3 - Dr. John
May 15 - Kalpana
Anniversary
January 19
Prayer Focus
Protection and provision for the impoverished children to whom we minister.
Faithfulness in sharing the Gospel of Jesus Christ in the midst of much resistance.
Spiritual growth and devotion in the lives of new Christian Families.
Love, unity, humility, and commitment among Mission leaders and staff.
Contact
Dr. John T. Costa
Khanjanpur Mission Health Service
District Joypurhat-5900
Bangladesh