Ernesto Nunes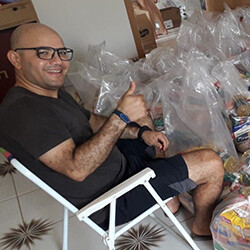 Contribute to GR 2806 –Brazil Field Leader Support
*Or checks should be made payable to "CGGC" and mailed to PO Box 926, Findlay, OH 45839. Please indicate your preference for funds to go to GR2804.
Our ministry in Brazil was launched when Pastor Gordon & Annie Avey returned in 1994 to Campinas after additional studies in the States. They had previously served with another missions organization in the eastern state of Bahia. In the early years, Gordon taught in an evangelical Bible School and mentored several young church planters. They also partnered with Pathway to Freedom, an evangelism and discipleship ministry for street youth.
In 1998, the first CGGC church was established in Araraquara, Since then, several more churches have been planted in the states of Sao Paulo, Bahia and Tocantins. The Bahia Bible Institute launched in March 2006, and trains leaders and raises up new church planters.
In July 2019, the Aveys retired from ministry in Brazil after 25 years of service with the CGGC. At the time of their retirement, the Brazilian Conference had grown to nine churches. Another church was established in 2020, and the Conference is headed by Pastor Ernesto Nunes (pictured with COVID-19 emergency supplies).
More information: Latest Newsletter

Back to Missionaries & National Field Leaders