Fremio and Evelin Jimenez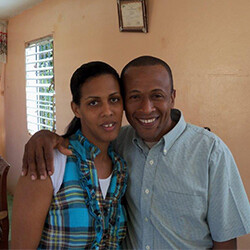 Contribute to GR 2840 – Dominican Republic Field Leader Support
*Or checks should be made payable to "CGGC" and mailed to PO Box 926, Findlay, OH 45839. Please indicate your preference for funds to go to GR2835.
Download Most Recent Newsletter
Birthdays
August 21st - Fremio
June 15th - Evelin
June 21st- Scarlet
December 12th- Elianny
Anniversary
March 31
Prayer Focus
Growth and Advancement of the Mission in the Dominican Republic
Unity of the family as we persevere through it all
God's continued spiritual and material provision of resources.
Contact
Fremio Email :
Evelin Email:
Back to Missionaries & National Field Leaders