Jacob and Haley Day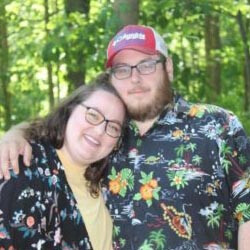 Both Haley and Jacob grew up in the Churches of God and were involved throughout their youth in various activities like youth group, church camp, and ACTS Teams. Haley grew up at Indian Head Church of God in PA. Jacob grew up at the Pine River Church of God in MI. They met on an ACTS Team to Pittsburg in 2011 and were married in 2015. Early in their relationship, they both felt a strong calling into ministry with a specific pull towards New Mexico where they had both served on ACTS Teams. In late 2019, they followed God's lead and moved to Gamerco, NM. They are both currently attending Winebrenner Theological Seminary and Haley teaches Pre-K at a local school. They will be working towards creating strong relationships within the church and building up the youth group and children's ministries as well as working closely with visiting teams.
Download Most Recent Newsletter

Contribute to GR 2733 – Jacob and Haley Day Support
*Or checks should be made payable to "CGGC" and mailed to PO Box 926, Findlay, OH 45839. Please indicate your preference for funds to go to GR2733.
Birthdays
December 10 - Jacob
March 4 - Haley
Anniversary
August 8
Prayer Focus
Build relationships within the church and community
Strengthen church ministries (Bible study, youth, Sunday school)
Wisdom and grace as we learn our new roles
Contact
Jacob and Haley Day
PO Box 195
Gamerco, NM 87317
Email : Jacob –
Email : Haley –
Back to Missionaries & National Field Leaders