Joseph Mwaura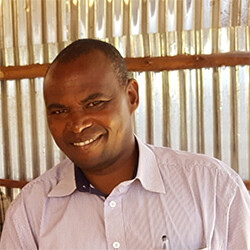 Contribute to: GR 2833 Kenya Field Leader Support
*Or checks should be made payable to "CGGC" and mailed to PO Box 926, Findlay, OH 45839. Please indicate your preference for funds to go to GR2831.
JOSEPH MWAURA FAMILY- KENYA Field Director
Since 2007, the CGGC has connected with a group of Kenyan churches near Embu, Kenya, called "Voice of the Gospel Ministries." Today there are 14 churches and preaching centers with over 700 in worship. Other ministries include an elementary school and a pastoral training program in collaboration with the CGGC. Joseph Mwaura serves as field director and missionary assistants are being sought to help with leadership training and development. Joseph became the field director of the mission work in Kenya working with the Voice of the Gospel Ministry in mid-2012. He previously taught in secondary schools for 16 yrs. There are 14 churches working with the Voice of the Gospel Ministry spread in both central and eastern parts of Kenya.
His wife Catherine has been an IT instructor in Embu town. She now coordinates the Sunday school and women's ministry in these areas.
Joseph and Catherine have two children: Christine and Dennison.
A Message from Pastor Joseph Mwaura: "My message to the brothers and sisters in the CGGC, is that we love them and appreciate the fellowship we have had in the past years. We have had a very good time when we work with ACTS teams and also other helpers and recently the teachers for the Bible schools. [The pastors of the 14 churches in the VOGM are receiving seminary training through Winebrenner Seminary and the Eastern Regional Conference.] I would like also to let them know that we appreciate when we receive the funds they give to Global Reach to help in various needs; they are a fragrant offering and help a lot in the spread of the everlasting gospel without which not much would be accomplished. Thank you!"
Download Most Recent Newsletter

Prayer Focus
to influence more people in Embu area for the gospel.
to plant more churches.
to access training for the leaders in the churches.
to develop ministries for the underprivileged.
for the success of the ministries already established
for God's guidance in the field.
Contact
Pastor Joseph Mwaura
PO BOX 1311 EMBU 60100 KENYA
Email:
Back to Missionaries & National Field Leaders