Maria Grigioni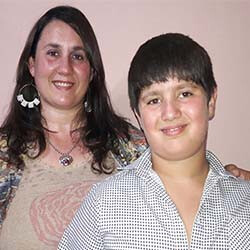 Contribute to GR 2601 – Argentina Field Leader Support
*Or checks should be made payable to "CGGC" and mailed to PO Box 926, Findlay, OH 45839. Please indicate your preference for funds to go to GR2835.
Pictured is Pastor Maria Grigioni and her son Valentino. She is our Field leader for the newly approved Argentina field.
Brief Recent Update: There are 2 churches in the Argentina field. They have had some struggles because the area is not easy to conduct outreach. Meanwhile, they are also ministering to a new area. Here, they plan to work with people in sharing about Jesus while also tending to some physical needs in the community.
Pastor Maria recently started a new gathering with the women of the church called "Mate de la Pastora". This is the same idea as "Coffee with the Pastor." They come together for fellowship and to discuss things as women that strengthen their life and walk in Christ. They do this while also inviting nonbelieving women to introduce them to Christ.
Download Most Recent Newsletter
Prayer Requests:
Pray for Pastor Maria as she continues to serve as Director/Pastor, a single mom, and as a police officer in her community.
Pray for the growth of the 2 churches and for the newly started women's fellowship
Back to Missionaries & National Field Leaders