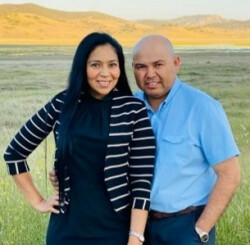 Contribute to GR 2755 – Victor & Alma Montalvo Support
*Or checks should be made payable to "CGGC" and mailed to PO Box 926, Findlay, OH 45839. Please indicate your preference for funds to go to GR2755.
The growing network of USA and international Latino Ministries is coordinated by interim Latino Ministries Director Pastor Victor Montalvo. Since May 2023, Pastor Victor Montalvo serves as Co-Leader of Latino Ministries with Christina Acosta, and he plans to visit all the Latino fields in the coming year. He has pastored the "Palabra de Vida" Church of God in San Diego, CA since 2007, and helps the California Eldership oversee two mission churches in Mexico. Victor's support account number is GR 2755.
More information:
Latino Ministries Newsletter Argentina Newsletter Mexico Newsletter
Dominican Republic Newsletter Nicaragua Newsletter
Prayer Focus
CGGC Latino Ministries development
God to lift and prepare Hispanic leadership
Provision of finances to carry out His work
National (US) and International (Overseas) Latino Missions
All pastoral families currently serving in Hispanic Ministry