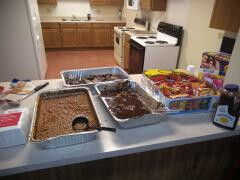 In the spring of 2019, Pastor Jake Boroff and Pastor Darwin Dunten were meeting as part of Jake's seminary requirements of having a mentor. During the discussion, Darwin started discussing a unique Bible Study that he attended while he pastored in Findlay, Ohio. It was a Bible study that met in a gun shop called Buffalo Trading Post. Every Tuesday night, close to 100 men arrive at the Trading Post and they would be greeted with quality "man food."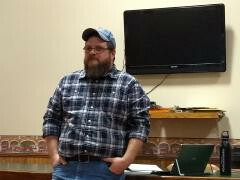 So, the discussion started between Jake and Darwin on how or if this could be done in their area. In October, a van load of men traveled to Findlay, Ohio from Mercer County to observe how the Bible study was conducted. On the way home, the discussion started. There were a few guidelines that were to be instituted. First, the Bible study would be men-focused. Secondly, it was not to be in a church. Therefore, they started looking for a man focused area. (A Harley Davison Shop, an auto mechanics shop, an old hardware store that would need a major renovation, or possibly the local firehall.) It was decided the local firehall would meet the desired need. (It helped that Jake's brother was the mayor of Mendon and the fire chief went to Pastor Dunten's church). Thirdly, there had to be quality man food. No hotdogs or Little Caesar pizza. Fourthly, it had to start and end on time. Finally, it had to be free.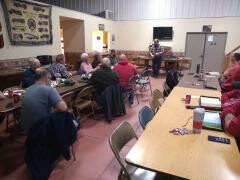 Mt. Tabor and Mendon churches of God equally invested money into the food for this event. The first meeting was in the middle of January with the first meal being ribs and baked beans. The Bible Study focused on the Gospel of John. Sixteen men from the community attended. Jake Boroff is teaching because he is the pastor at Mendon church of God and he has more of a relationship with these men because of his connections to the town. Each Tuesday, a new man has attended. Each week an unchurched man has attended.
Is it a success? If men attend and hear the Gospel, yes, it is a success.
From January to the end of April, this group will meet and we will be "working out the bugs." The big rollout will be in the fall of 2020.
---